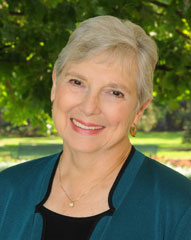 Presentations and Events
Upcoming Events
To be announced ...

Events
Sunday, April 19, 2009, 1:00 - 3:00 p.m.
Meet the Faces Behind the Books, Open House
Englewood Public Library
1000 Englewood Parkway, Englewood, CO
See www.englewoodgov.org for directions 
Air Dates:
Wednesday March 4, 2009, 10:30 a.m.
Friday, March 6, 2009. 2:00 p.m.
Wednesday February 4, 2009, 10:30 a.m.
Friday, February 6, 2009, 2:00 p.m.
Radio Interview, "Write On Four Corners"
Connie Gotsch, Host
Public Radio Station KSJE, 90.9-FM
Farmington, New Mexico

To hear the broadcast, go to www.ksje.com and click on Listen Live, or go to the mp3podcast link and find Write On Four Corners and then Carol Grever's program. 
Thursday, November 13, 2008, 8:00 p.m. Eastern
Blog Radio Interview, "Your Mental Health Talk Radio"
Jacqueline Foreman, Host
Talk Radio For Your Mind(TM)
www.yourmentalhealthtalkradio.com
www.blogtalkradio.com/yourmentalhealth
Monday, September 22, 2008, 12:15-12:45 p.m. Eastern
Radio Interview, "The Kathryn Zox Show"
Diverse Solutions to Straight Spouse Syndrome
WMET 1160, Washington DC
Monday, August 4, 2008,  6:00-7:00 p.m.
One Hour Radio Interview with Leslie Botha, host of "Holy Hormones, Honey"
Community Radio for the Front Range, KRFC-FM 88.9
Ft. Collins, Colorado
Friday, July 11, 2008, 8:30-9:30 a.m.
Radio Interview with Kathy Partridge, host of "Connections"
Guests, Carol Grever, Roz Dauber, and Deborah Bowman
Independent Community Radio KGNU, 88.5 FM and 1390 AM
Boulder, Colorado
Wednesday, June 18, 2008, 7:00 p.m.
Broomfield Independent Film Series
"One Gay, One Straight: Complicated Marriages" screening
For more information, www.broomfieldfilm.org
Broomfield Auditorium
3 Community Park Road
Doors open 6:30, Q & A with author-producer after screening
Free admission
Monday, June 16, 2008, 7:30 p.m.
Boulder Bookstore program and signing
1107 Pearl Street, Boulder. Authors Carol Grever and Deborah Bowman, and filmmaker Roslyn Dauber will discuss WHEN YOUR SPOUSE COMES OUT and the related DVD, "One Gay, One Straight."
Click here for promotional poster.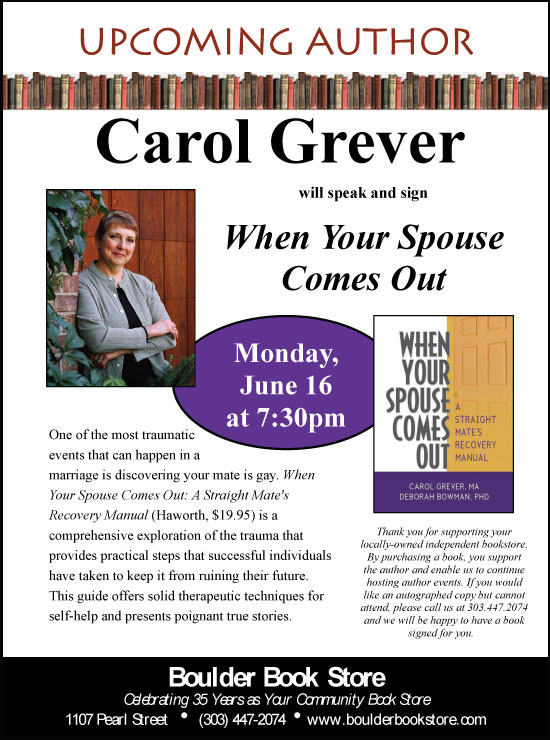 Monday, June 2, 2008, 11:20 a.m. Eastern
Radio Interview with Mary Jones, "The Mary Jones Show, Talk of Connecticut"
Four station Network, WDRC-AM,
Hartford, CT
Thursday, May 22, 2008, 7:15 p.m.
Barker Book Group Chat
Boulder
By invitation
Friday, March 28, 2008, 7:30 p.m.
Screening of One Gay, One Straight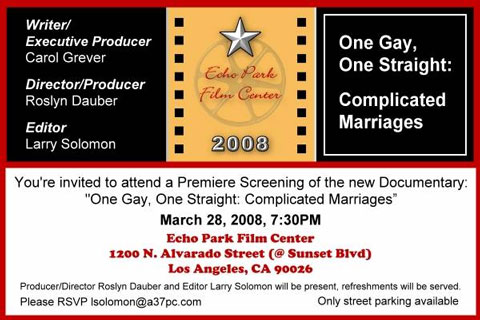 Monday, March 24, 7:00 p.m.
Public Premier of One Gay, One Straight: Complicated Marriages
Co-Sponsored by PFLAG and Human Relations Commission, City of Boulder
Boulder Public Library Auditorium
1000 Canyon Blvd, Boulder, Colorado
Free admission.
Wednesday, March 19, 12:00 noon
Documentary Adventure: Translating Book to Film
Boulder Press Club, "The Library" at Boulder Broker Inn
555 30th Street, Boulder, Colorado
Monday, March 3, 5:00 p.m.
Screening of One Gay, One Straight
Naropa University, Paramita Hall 3285 30th Street, Boulder, Colorado
Students and public invited. Free admission.
Sunday, March 2, 4:00 p.m.
Cast Party
Celebration for all documentary participants and production helpers.
By Invitation.
Thursday, February 21, 2008, 8:00 p.m.
"Leap! From Book to Film," talk by Carol Grever See sample of new video,
One Gay, One Straight
First United Methodist Church, 14th and Spruce, Boulder, Colorado